We are a unique coconut products manufacturer with two dedicated factories for coconut-based products. Apart from that, we have two more factories for the processing of spices and dried fruit. Hygiene and product quality are our predominant commitments. Our production planning is meticulous so that we can consistently meet our delivery deadlines.
Manufacturing Coconut Products :
Organic Coconut flour
Organic Creamed coconut
Organic Desiccated Coconut
Organic Coconut Chips
Organic Toasted Coconut Chips
Organic Coconut water
Organic Flavored coconut chips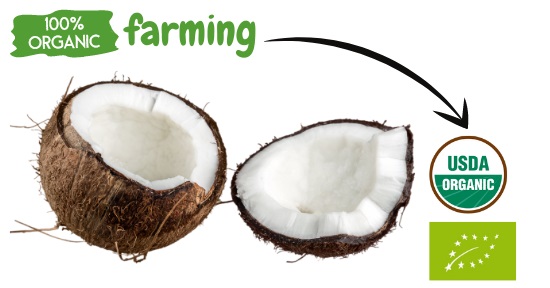 We have around 200 local villagers directly employed currently, and we are planning to create more job opportunities as we continue to expand. We have created a friendly work atmosphere, one of the most important values we strongly believe in, which, in turn, has naturally fostered a highly motivated work culture. In view of this, we are proud to have a dependable workforce.
In principle, we are highly flexible and are very much pleased to accommodate customer feedback in product development.
Exporting to a prestigious clientele:
Metshu Exports (Pvt) Ltd is one of the largest and leading organic food product manufacturers in Sri Lanka. We are currently exporting our products to in excess of 22 countries around the world, including some of the world's largest supermarket chains. Furthermore, we have started marketing our products in the Middle East, and the response we have received is promising.
Built on a three-decade-long track record:
Our mother company was founded as far back as in 1988 in the coconut triangle of Sri Lanka and has ever since been a trendsetter in the manufacture of a range of coconut-based products. Its impeccable track record culminated in 2014 with the inception of Metshu Exports (Pvt) Ltd, a state-of-the-art production facility capable of producing a wide variety of innovative products, including 100% coconut oil, organic coconut products, organic-certified products as well as Non-GMO food products. The opening of the new canned fruit facility in March 2019, marked yet another expansion of Metshu.
Testimonials to our quality:
As a responsible manufacturer, we are committed to implementing stringent quality standards in order to ensure the highest quality standards consistently. This is evidenced by the certifications we have been awarded, such as BRC, Fair Trade, FSSC22000, Non-GMO, ISO22000, Kosher, HACCP, HALAL, Organic, and SEDEX member. Since we place great value on customer feedback and comments, we are always prepared to accommodate them in our continuous development process of products. What's more, in our quest to achieve total customer satisfaction, we continue to focus on even more innovative products with our own highly experienced and dedicated research and development team.
Our outstanding strength:
We fully appreciate the fact that a sustainable business model is a vital part of our business. To realize this, we have initiated prudent investments towards expanding our own organically-grown- plantations, which is an exercise just a few companies can afford to do. This, interwoven with Fare Trade agreements we have entered into with a dependable base of local planters, places our company in an ideal platform to perform at its best at all times, making it viable to meet our customer expectations on a consistent basis.
Our customer focus:
We continually strive to establish and strengthen our business relationship with customers by offering them maximum benefits, no matter whether the order placed with us is big or small. This is because we value our customers best, and we aim to become your most trusted supplier of coconut-based products from Sri Lanka.
We gladly welcome your inquiries on our products, projects, and philosophy.
Quality and Food Safety Policy:
We are fully committed to manufacturing our products to the highest standards of safety and quality by complying with all relevant statutory and regulatory requirements, and certified management systems. We ensure that our operations are continually reviewed, and necessary improvements are implemented to keep up with changing conditions as well as advances in technologies. We appreciate the fact that quality is the responsibility of all our employees, so we continue to strive towards creating a quality culture by taking steps to enhance employee awareness and commitment.
We are capable of introducing various styles to keep up with the market requirement. Every order placed with us essentially entails:
High and consistent quality
Carefully chosen raw materials
Good after-sales service
Timely delivery
Competitive price
We would like to give you all the information about products and Please do not hesitate to inquire about any product at any time.